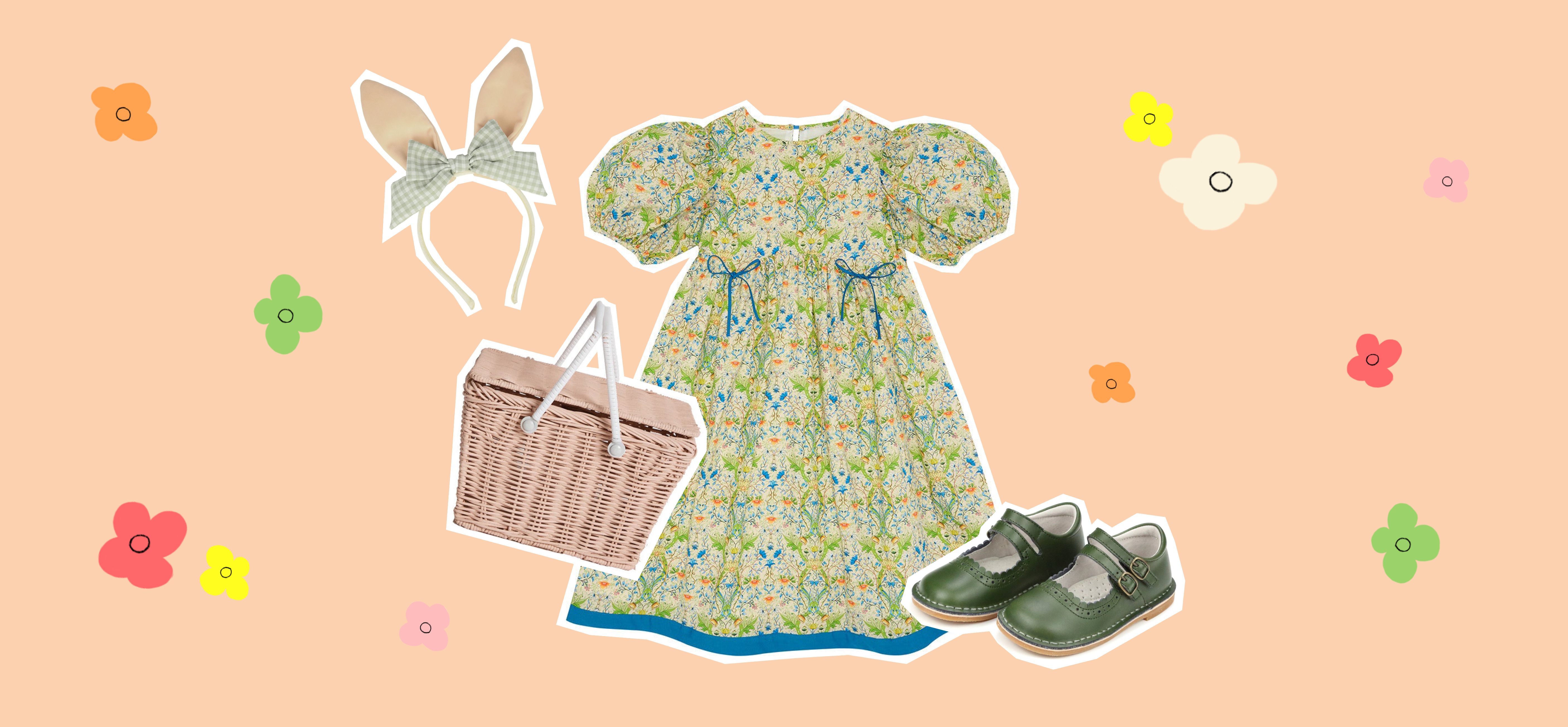 Editor's Picks
Baby & Kids Easter Outfits
Whether you're heading to family brunch, an egg roll, or a picnic, the Easter season is the perfect time for everyone in the family to shed their winter layers. So we made it easy to pull together with these cute-as-a-bunny kids' Easter outfits.
While Easter used to mean white gloves and starched dresses, the vibe is decidedly looser now, but that can make it harder to find looks that feel like everyone in the family is heading to the same party. Our go-to trick for nailing that elusive je ne sais quoi is to hone in on a color and a mood while mixing and matching shades and prints. Start with crisp cotton pants or Easter dresses , and layer on a cotton cardigan spring shoes (we love t-straps mary janes), topped with an Easter basket and bunny ears.
Grass Green Easter Outfits Four Ways
Here's how it can all come together: Shades of green run through each kid's outfit. But, at the same time, they're not matching – a cobalt bow, a bunny bonnet, or a casual striped mandarin collar shirt inject personality.
Floral Favorites: Mommy & Me Matching
Keep it Cozy With Creamy Neutrals
Creams, clays, and earthy oatmeals are cozy for cooler climates. Textural details with linen, smocking, eyelet, and pointelle stitching add interest.
All Set for Spring: Stripes & Seersucker Separates
Seersucker and garden-inspired separates in playful cuts and a mix of clear blues and greens are ready to egg roll.
Sunny Shades For Spring Chicks
Get inspired by downy baby chicks and ducks paired with gingham and florals in this sunny, happy color and solids in a darker mustardy yolk.
Blue Skies Ahead
Florals work together in a range of bright blues, from sky-blue trousers to bluebell prints and cobalt trim. Liberty sneakers from Trotters London add a hint of pattern, especially for a mini that loves to be comfy.
Pinks Picks for Every Bunny
Pale pink is sweet with details like scalloped ruffles, smocked details, and duckling appliques in our Easter Shop .
Plus, The Perfect Pastel Accessories