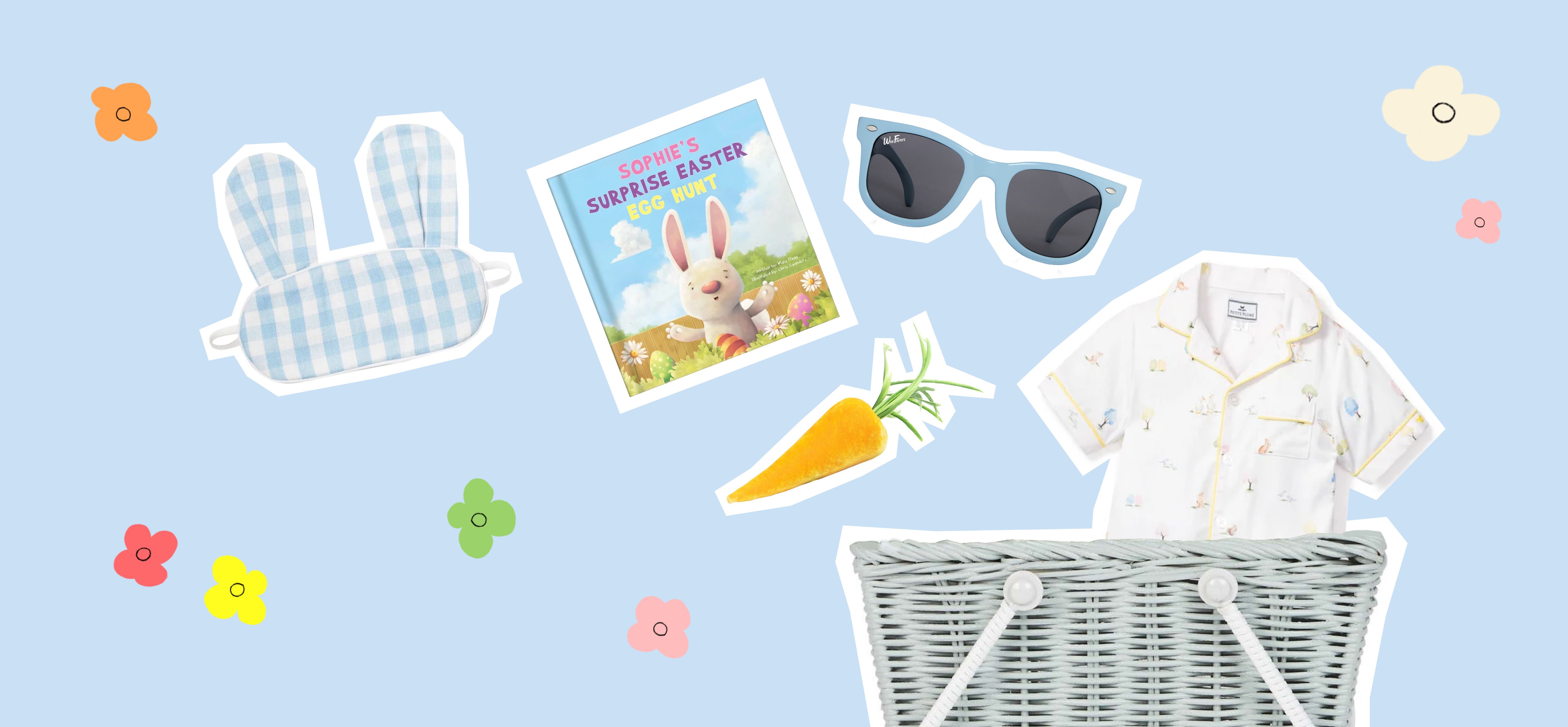 Editor's Picks
40 Easter Basket Ideas for Kids: Something for Every Bunny
Easter basket ideas for every mini at your Easter egg hunt – from green thumbs to flower girls and baby bunnies. We've rounded up Easter basket stuffers for newborns to teens.
1. A-Tisket, A-Tasket, Start With a Basket
The best Easter basket ideas start with the perfect vessel. Keep it classic with a traditional rattan basket from Olli Ella, personalized with a custom bow from Winn and William you can use year after year. For something a bit different Mustard Made's metal baskets in a slew of pretty pastels. If you'd like a cohesive look, add stuffers with an Easter motif like florals or bunnies, and use a color to tie things together, like yellows and creams for a baby chick basket. Here are our go-to ways to keep it fresh.
2. A Floral Easter Basket for the Budding Florist
Yes, you heard it here first- florals for spring. Aspiring florist will love floral Liberty Print Easter dresses, a DIY flower crown kit, and a daisy-inspired bag for some major flower power. With a Sun & Lace Toddler Scalloped Purse and a set of fairy wings, they'll be ready for a walk in the woods now that it's warming up, collecting spring blooms along the way.
3. An Easter Basket for Baby Bunnies
Snag sweet bloomers, bonnets, booties, and babies for the under-one set. Swap out a traditional woven Easter basket for a softer version in canvas – or use a baby blanket. We love gifts that match babies' age and stage, that just happened to feature a woodland bunny or baby chick, like a Wee Gallery's Meadow Activity Pad for tummy time or Pehr's Hatchlings print for newborns. The bunny ears on Bluberry Hill's Rattle are perfect for teething babies, while a rolling toy helps crawling babies have something to reach for as they explore.
4. A Garden Easter Basket for Green Thumbs
Get little buds warm weather-ready with a fresh set of gardening tools, friendly backyard bugs, lots of picnic-inspired gingham, and veggie-inspired gear in a woven wagon they can take for a spin.
5. An Easter Basket for Bigger Bunnies
Use the cheerful mascots of spring as the starting point for a classic Easter basket––from sunny bunny prints to silky carrots. Layer in stickers, and a Bunny Hop Mixer for aspiring chefs. Tucked it all into a vintage blue picnic basket.
6. An Easter Basket for Little Chicks
Little chicks and chickadees are a sweet way to celebrate. Pair egg sidealk chalk and baby chick pretend-play costumes with pale yellow Easter pajamas. Add jelly beans to classic easter eggs or try Little Miss Zoe's bracelet-making kit pacaked in a purple egg.
7. An Easter Basket for Sporty Kids
Warmer weather means kids are ready to head outside and its the perfect time to refresh your stash of bubbles, sidewalk chalk or sports equipment. Use bolder primary colors to create an Easter basket geared to older kids with pickleball gear, sporty watches, bunny blowling for competive kids paired with a short-sleeve pajama.
8. An Easter Basket for Tweens and Teens
Skip the jelly beans and go with a few pieces that feel just a little grown-up for the summer ahead. Think: simple studs, a journal paired with metallic pens, a floral hair comb, and a colorful puzzle.
Easter Basket Stuffing Ideas for Every Age
Easter Basket Ideas for Babies
9. Easter pajamas in a fresh print and warm-weather fabric.
10. A lightweight bonnet in linen or cotton for sunnier days.
11. Soft leather shoes for outdoor picnics. We love the Liberty print details in Sun & Lace's handmade styles.
12. Bibs in pastel stripes or mini florals.
13. A wooden push toy , like a rolling bunny or duck.
14. Teethers & rattles shaped like a baby animals they'll play with long past Easter.
15. Easter is perfect for a soft plush bunny or little lamb.
Easter Basket Ideas for Toddlers
16. Think outside the basket; fill a dump truck with easter eggs and treats for the construction-obsessed.
17. For aspiring chefs, use a product basket with play food .
18. Temporary tattoos in Easter motifs, florals, fairies, or even backyard bugs.
19. Stacking toys, like this Carrot Counter or Stacking Garden Friends , both from Tender Leaf Toys.
20. Bubbles , paired with a bubble blower (so it's not you).
Easter Basket Ideas for Preschoolers
21. Fill a raffia Bunny Backpack with trail mix with a high chocolate-to-granola ratio, a pair of shades, and a carrot surprise ball for would-be adventurers.
22. Complete their Easter outfit with bunny ears like this set of two from Jack Rabbit Creations.
23. Personalize an Easter book from I See Me!
24. Refresh her hair accessories in pretty pastels for spring.
25. Stickers , whether in sheets, rolls, or even scratch-and-sniff format, is a sticker for every kid.
Easter Baket Ideas for Big Kids
26. Turn your Easter basket into a craft project with our DIY paper Easter basket .
27. Sunglasses for sunny days – try a pink pair or daisy-shaped shades.
28. We don't fully understand the allure of nail stickers , but they're almost always a hit.
29. We like to place a surpise ball from Meri Meri at each place setting for Easter dinner, but they're great to tuck into kids' baskets too.
30. Handmade Twee sidewalk chalk comes in an array of shapes. Stock up on a few to tuck into strollers or keep on the front steps for the season.
31. A jump rope with painted handles for learning how to skip rope after school.
Easter Basket Ideas for Tweens & Teens
32. Art supplies in metallics or pastels.
34. A personalized beaded bracelet for stacking now that kids are in short sleeves again.
35. Baking kits from Handstand Bakery with themed cookie cutters or cupcake molds.
36. A bath bomb from Musee Bath .
37. Teens may be starting to try fragrances , and a rollerball set or a luxe candle are excellent ways to start exploring.
38. Bluetooth microphone and speakers for the rec room.
39. A neon sign for their room.
40. A just-their-size Naghedi St. Barths Petit Tote .