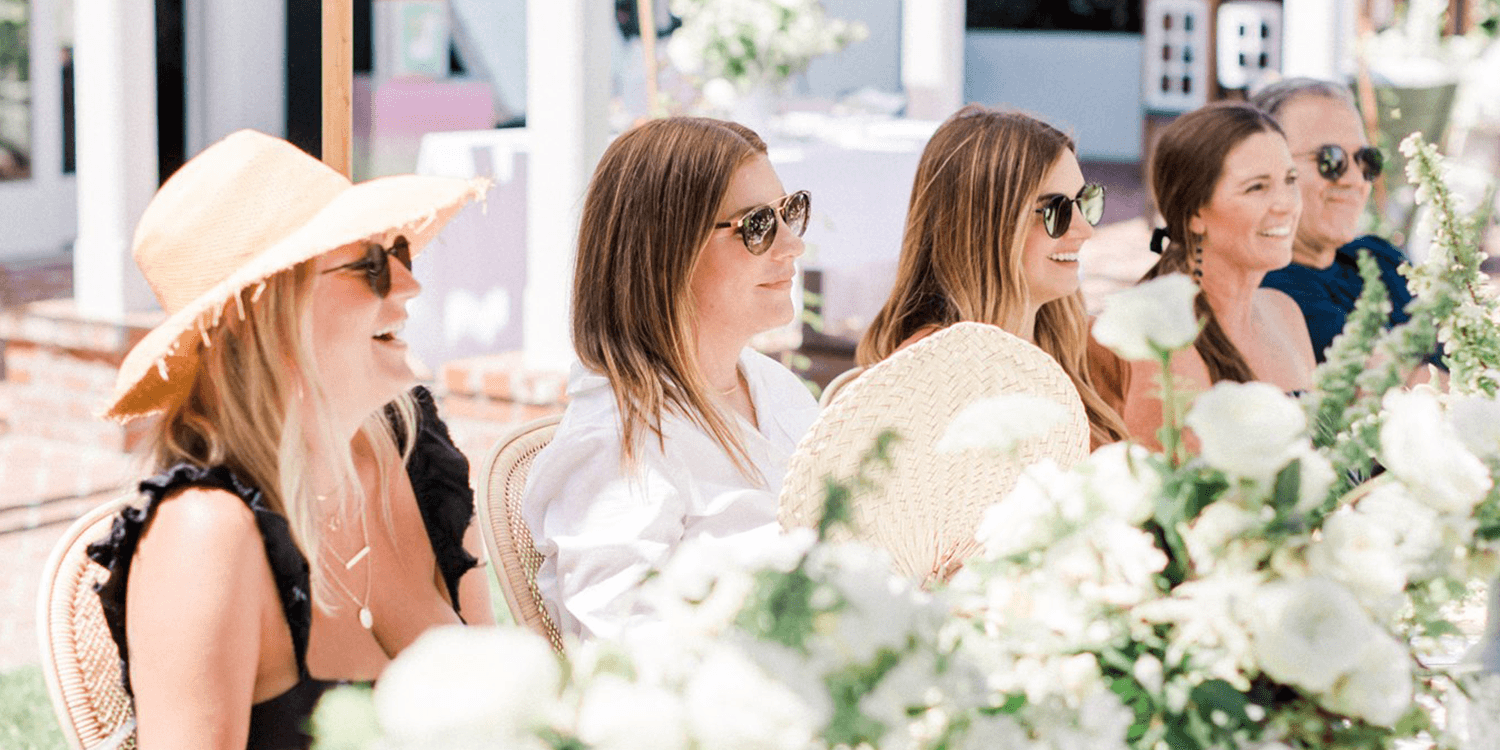 Baby Showers
An Epic Guide to Baby Shower Ideas for Every Type of Parent (Even People Who Don't Love Baby Showers)
No cheesy themes or awkward games here. From popping bottles at a fancy cocktail party to celebrating with a sophisticated safari, we're reimagining the traditional—er, lame—baby shower ideas to help you plan an elevated (note: not overly-themed) event you'd actually want to attend. And we're answering all your burning etiquette questions while we're at it.
Photography

Valorie Darling with event designed by Lynden Lane Co.
Written By

Elizabeth Kedar
Why have a baby shower?
You've earned it! Seriously though, even if you don't love being the center of attention, baby showers are a great way to "party" with your favorite people before your life changes forever. Traditionally, baby showers were meant to help the new parents purchase all the necessities—think strollers, swaddles, bottles, diaper pails, etc.— for their new bundle of joy, points out etiquette expert Diane Gottsman. "That same thought process still holds today, but it's also now looked at as a celebration or a reason to get family and friends together who haven't seen each other for a while and honor the baby and the mom-to-be."
Baby Shower Planning 101
According to traditional etiquette, Gotsman says a baby shower should be hosted by friends, cousins and even siblings, but not the parents of the expecting mom and dad. In 2022 though, it's safe to say that all rules have really gone out the window and nowadays many grandparents are throwing showers for their children—and no one bats an eye.
Traditionally, the host or hostess foots the bill, along with whoever helps co-host the shower, which can be several family members, a small group of friends or a team of co-workers who all pitch in to pull off the party.
Yes! You'll just want to make sure the guest lists don't overlap, warns Gottsman. For example, if your Aunt is planning a baby shower for you back home, you're not going to invite the same family and friends to the local shower your work wife is throwing you. With so many expecting parents living hundreds—or even thousands—of miles away from loved ones, multiple showers are becoming more and more common.
While many parents-to-be will only have a shower for their first child, if there's a big gap between kids and all the baby gear is long gone or the second or third child is a different gender, an intimate "sprinkle" is totally appropriate and no longer considered in bad taste. Another babe super close in age may also warrant a sprinkle since mom and dad will likely need to double up on all the baby gear.
If you really don't want to look gift-grabby, consider a family and close friends only luncheon with a simple note to guests on the invite not to bring gifts. Ultimately though, it's best to check with the parents on what they are comfortable with when it comes to throwing showers and accepting presents for subsequent children.
"The best time to throw a baby shower is two months to four weeks out," says Gottsman. "As the weeks get closer, time gets a bit more hectic, and the baby could always make their arrival unexpectedly." If you have to travel back home or fly across the country for a shower, it's best to check with your doctor to find out what's safe (timing wise) for you and your pregnancy. You can then relay that info to the host so they can plan accordingly.
If complications arise during the pregnancy or the parents-to-be are welcoming a second, third or even fourth child, hosting a sip and see in the first few months after the baby is born is always an option. "The baby will be the special guest, but mom and dad may be hesitant to expose the new baby to too many people until after a certain number of weeks or months." Find out what they're comfortable with—or if they're even comfortable with a sip and see at all.
The guest list is dependent on so many factors! How many people can the location comfortably fit? Does the mom-to-be want a Jack & Jill shower (check out our co-ed baby shower ideas below!) or something a bit more intimate? "Baby shower invitations can be formal and sent out by mail or a simple digital Evite is perfectly fine," says Gottsman. At minimum, they should be sent out approximately three weeks in advance, she notes, but you'll want to give friends and family ample time to plan (think a couple months!) if they need to travel.
From the mom-to-be's favorite local restaurant to the host's own backyard, the venue options really are endless. First, you'll want to consider the baby shower theme, size of the guest list and what the expecting parents are envisioning. Budget is also a HUGE—if not, the biggest—deciding factor, as venues like hotels and country clubs can quickly escalate in cost with high food and beverage minimums. Wineries, museums, botanical gardens and rooftop bars (with a view!) are all stylish settings for a modern shower too.
Baby Shower Activities & Etiquette
Eat, drink and be merry, mostly! While delicious food and cocktails/mocktails (any beverages, really) are a must, games are completely up to the mom-to-be. "Some people love them and some people don't like them at all," points out Gottsman. If the expecting mother is more of an introvert, she may want to forgo the games and gift opening in front of guests. Other elevated baby shower ideas include cute crafts, like decorating wooden blocks or hand dyeing tiny onesies.
No! "While baby shower traditions of yore have included opening each gift in front of guests, new traditions say you don't have to," says Karen Reardanz, Baby Products & Registry Expert at . It's truly up to the parents.
"If you're not comfortable opening gifts in real time, for whatever reason—you don't want the constant attention, what if you don't love the gift, you're worried your guests will be bored—it's your shower. It's good to name in advance, though, that you won't be opening the gifts at the shower, to set expectations, particularly if there are people who are expecting gift opening." Ahem, like your Great Aunt and Grandma. As an alternative, Reardanz suggests filming a video of you opening your gift and sending it to the guest(s) you know would really love to see your reaction. Whatever you choose, "it's always good to send out a heartfelt thank you note."
What type of food do you serve at a shower?
Really, anything goes! A good place to start would be to reach out to the guest of honor (AKA mom!) to see what she's craving or if there's anything in particular she'd like to see on the menu. You'll likely want to go easy on the deli meats and soft cheeses and steer clear of a sushi-making party, unless you're incorporating cooked options. Sit-down meals can be inspired by the baby shower theme or mom's fave foods. If your guests will just be grazing or the shower is buffet style, consider keeping things mess-free (sorry, no BBQ ribs or chicken wings, dad!) with easy-to-eat finger foods.
You'll want to consider time of day too when planning the menu. As far as we're concerned though, a dessert table with lots of delicious options is always a do—in addition to the cake, of course. Fresh seasonal ingredients and favorites (think an elegant hot cocoa bar for a winter shower, for example) are always in style.
A few tasty baby shower food ideas to inspire your menu:
● Custom-curated charcuterie Boards: Not only do they look great on the table, you can literally design them to fit any baby boy shower theme (or baby girl shower theme!), celebration style or the expecting mother's taste buds. Think pretty, pre-sliced meats and cheeses for party guests and a curated assortment of nuts, fresh and dried fruits, crackers/bread and artisanal jams. Dress it up with a fancy wood cutting board and decorative details like flowers, figs and fresh herbs.
● Themed brunches: Hosting a baby shower brunch? Chef Becky Geisel of loves the idea of a chic brunch menu that includes a variety of specialized, elevated items. "For example, individual chicken pot pies are perfect for a Peter Rabbit-themed event, along with international dishes such as mini Scotch eggs or mini pavlovas." Feel free to get creative!
● Passed Appetizers: Think meat and veggie skewers, salad kabobs, seasonal bruschettas, drinkable soups for a fall/winter shower and bite-sized sandwiches. These can be passed around the shower or set up at a food table for guests to grab themselves.
● Dessert Only: Who says you have to serve a real meal at your shower? One of Geisel's most memorable baby shower food ideas was an all-dessert menu, highlighting an array of fab, bite-sized treats and fulfilling the mom-to-be's sweet requests and cravings. Um, yum!
The chicest baby shower favor ideas (your guests actually want)
From luxe DIY favors and pretty plant babies to custom cookies almost too good to eat, here are just a few favors your friends and family will be delighted to receive. Though, remember: while baby shower favors are a nice touch, they're certainly not a requirement.
● Perfectly-timed plant babies: For all your proud plant parent friends! International wedding planner Tara Fay of is a big fan of a floral-based favor at a baby shower. "Think bulbs planted in mini pots to bloom around the expecting mother's due date and to serve as a permanent reminder of the baby. These can be budget friendly or multiple large versions to blow the budget," she says.
● DIY Bath Salts: Self-care never goes out of style. CEO + Founder of , Brittney Mendoza, recommends setting up a bath salt station where guests can get involved by creating their very own bath salts. Just grab some glass candy jars and fill them up. Then let guests do their thing. "You can also place soap bars, loofahs, scrubs and masks for men and women to pamper themselves at home."
● Something personal: Think favors that reflect both parents' culture (or the place they got engaged/fell in love!), recommends luxury Event Planner Bruce Russell of . Some ideas he's seen are personalized fortune cookies with a handwritten message for each guest and small porcelain elephants, which in Hindu and Indian cultures are a symbol of intellectual strength and peace.
● Flower Arrangements: "Guests love going home with florals from the event," says Barbi Walters, Founder & Principal Designer of "Have a station where your guests can make their own arrangements and then nothing goes to waste." For a more intimate shower, you can also send home the floral arrangements designed to decorate your event with guests.
Some other elevated ideas, courtesy of Event Planner Virginia Frischkorn, founder of and :
○ Turkish tea towels
○ Small local honey (use a piece of fabric on top) with honey dipper
○ Lavender sachet
○ Shortbread cookies with pressed flowers or lavender
○ Bath bombs
○ Wildflower Seeds
○ Spice pot spice sachet
Anything edible always goes over great with guests. We also love mini(malist) candles, lotions, teas and a simple nail polish to coordinate with the baby shower theme and/or color scheme.
The best outdoor baby shower ideas
If the weather permits—and you have a backup plan in case of rain—why not get outside and enjoy some fresh air and a naturally beautiful setting with your loved ones? Outdoor showers can also help keep germs at bay, by allowing for increased air flow and social distancing to protect older party guests and the pregnant mom-to-be. Here are just a few ideas you can customize for your baby girl shower theme or baby boy shower themes:
● A posh pool party or boat cruise: Perfect for a relaxed outdoor summer shower! "A pool party, complete with chic pool floats and entertainment is a fun outdoor option for a shower. Or consider a sunset boat cruise and back for a casual dinner at sea," says Russell.
● An al fresco backyard shower: Picture an intimate dinner party under the stars, complete with string lights to set the mood. This concept also works well for an early afternoon lunch—just switch out the string lights for hanging rattan pendants and set up a cozy outdoor lounge area like the one pictured, designed by the event planners at California-based wedding and event design boutique, Lynden Lane Co. Lots of fresh florals and fresh ingredients (think farm-to-table food) help complete the look.
● A whimsical picnic: On the beach, at a local vineyard or the mom-to-be's fave botanical garden or park. Think plush, eclectic pillows as seats, lots of cozy vintage rugs and greenery galore.
Understated elegance: Our fave simple shower ideas
Whether you're strapped for time, money or the mom-to-be just wants something simply chic, check out these easy-to-pull-off baby shower ideas that won't break the bank:
Use your own home decor: Event Planner Bruce Russell loves creating a tablescape with various items from around the home. "Even if everything doesn't match, it's so personal and a great way to show personality at an intimate event."
● Bring back the pot luck trend: " Supply the setting, and get everyone to bring a dish," says Russell. "You can then spend your time and energy setting the most perfect table." The dishes can be random or based on the shower theme so guests can get creative.
● Focus on the food and drinks: According to Walters, the easiest way to elevate an event is with the food and beverages. "A thoughtful guest experience is what will make a good party, great," she says. "Consider allocating money for a bartender, or at the very least a specialty cocktail/mocktail mix that adds color and helps tie together a theme."
Cool co-ed baby shower ideas (that aren't cliche)
As co-ed showers become more and more common, coming up with a creative theme other than the classic backyard BBQ can be a challenge. If you're searching for something slightly more elevated and outside the box, here are just a few crowd-pleasing ideas to take your co-ed shower up a notch:
● A backyard pizza party: Get the men and women involved with a gourmet pizza party, suggests Partytrick Founder Virginia Frischkorn. "Buy fresh dough and set out all the toppings in bowls. If you have a pizza oven, or access to one, have it ready for people to finish off their custom creations."
● A group dinner at mom and dad's favorite restaurant: "A private room or semi-private long table can be lots of fun with friends and family," says Russell. Plus, you don't have to worry about all the guys going home hungry!
● A mocktail mixology class: A spin on the traditional cocktail party! Search for a mixologist in your area that does private events and host a mocktail mixology class at your co-ed shower, recommends Russell. Guests can create their very own delicious, non-alcoholic drinks. "This can be such a fun, interactive co-ed experience. Be sure to include some alcohol options for guests too."
14 Chic Baby Shower Themes for Modern Moms and Dads
Forget the corny baby games and diaper cakes! Just because you're expecting doesn't mean your shower has to look childish. Step up the style factor and create a one-of-a-kind experience for your guests with a baby shower theme that's as tasteful and chic as you are. From fancy cocktail parties to sophisticated safaris, we've got elevated baby shower ideas for every type of parent-to-be.
For The Well-Traveled Couple: A Location-Driven Shower
Engaged in Italy? "Transport guests across the world—sans passport—with a Capri-themed baby luncheon, featuring lemons galore," says Walters. Think fresh pasta dishes, caprese salads and fresh-squeezed lemonade, which you can spike for guests! A color palette of vibrant yellows and light blues will help set the Amalfi Coast mood. Lemons make for easy and affordable table decor. Having a boy? Play up the blues more, or add pretty pops of pink with flowers if you're going for a more traditional baby girl shower theme.
image on left by KT Merry, on right by Valorie Darling with event designed by Lynden Lane Co.
For The Dancing Queen: Boho Disco
Groovy, baby! Event Planner Allison Welch, Founder of , designed this gorgeous backyard disco-themed shower for a client. "The mother-to-be loved music so disco balls were incorporated into the natural color palette used throughout for the place settings, floral arrangements, rugs and pillows. A touch of elegance added to the table with high-end glass and plateware." We love the idea of going all in on the disco theme and asking guests to don their best sequin dresses, 70's style jumpsuits and boho retro attire. Keep the party popping with drinks served in disco ball cocktail cups.
For The Animal Lover: A Sophisticated Safari
Because a Safari-themed shower can get cliche very fast, Frischkorn advises embracing the animals but avoid going too juvenile with "stuffies" and cupcake toppers. "I love renting additional potted plants or potted trees—think Banana Leaf and Monstera Leaf plants—to transform your space," she says. "There are some fabulous safari-themed decals on Etsy that can be sourced for a wall in your home to immediately transform the space." Keep flowers to a minimum and go wild with the greenery. An oversized stuffed giraffe doubles as decor and can later be used in the nursery or playroom, she points out. "For food, think lush and delicious vegetables, fruits and seasonal small bites, displayed tactfully on wooden serving platters. A more exotic cocktail, like the Dawa (the official cocktail of Kenya) or the Sundowner is the way to go. Infused water or sparkling water is also a must to keep guests hydrated."
For The Fashion-Forward Flower Child: An Outdoor Festival
The perfect co-ed baby shower idea for the cool couple who always gets photographed at Coachella. To set the scene, Lynden Lane Co. Founder Barbi Walters recommends creating an upscale outdoor festival vibe, complete with a tent and flower crown making. For food, serve dressed up versions of your favorite festival fares, like gourmet sliders and pizza slices. You can even create your own backyard "beer garden"! And if you really want to go all out, hire your own DJ to keep the baby shower bumping, pun intended.
For The Chic Girl Mom: A Parisian Tea Party
By far one of our favorite baby shower ideas for a girl. To create the perfect Parisian afternoon, Walters suggests serving a variety of tea, baguettes, Madeleine cookies and delicate tea sandwiches. "Consider using your fanciest wedding china or renting cups and saucers with a floral motif," she says. "Wrought-iron furniture, such as chairs or a shelving unit, will be perfect to establish the setting." Of course, fresh flowers and pretty pastels are also a must. As for favors, individual boxes of macaroons will ensure your guests go home happy.
For The Modern Boy Mom: Where The Wild Things Are
Searching for stylish baby boy shower themes that are tasteful, not tacky? Walters loves the idea of choosing an iconic children's book to bring to life, like Where The Wild Things Are . "Consider hosting this adventurous gathering outdoors with draped greenery on the tables and shades of blue and green seen throughout. And don't forget Max's crown, as seen on cookie favors or as table decor." You can also ask the mom-to-be what her favorite children's book is and design your own themed baby shower based on that!
For The Coastal Cool Couple: A Nautical Beach Bash
Calling all beach babes! While this theme can quickly turn cheesy if you don't actually live at the beach, warns Frischkorn, a Jenni Kayne style, Montecito-vibe baby shower is the way to go if you're a true coastal mom-to-be. "There's no seashells in sight at this party, but guests will feel like they're at a luxe beach resort." Stick with mono-bloom arrangements (poppies, hydrangeas, garden roses, etc.) to keep it chic and if rope is used, she suggests doing so sparingly. "For example, tie your napkins with a robe napkin ring to add a little nautical flare. Rattan chargers and navy or gray striped linens to decorate are a plus." As for the activity, Frischkorn loves the idea of writing well wishes for the baby and bottling them up for mom to open at some point.
For The Plant Parent: (Edible) Wildflowers
If she grows her own vegetables and refers to her plants as her babies, then she'll dig this fabulously fresh and feminine baby girl shower theme! "Aesthetic-wise, think less hippie and more Anthropologie, Loria Stern vibes," says Frischkorn. "Keep the food fresh with a colorful crudité platter, featuring edible flower garnishes, tea sandwiches and cookies." For drinks, she recommends a blend of wine, spritzes (alcoholic and non-alcoholic) and fresh-pressed juices—with large ice cubes with edible flowers inside—to really wow your guests. Instead of the traditional baby shower games, "create a onesie bar with natural dyes and flower petals. Lavender sachets or custom cookies with pressed flowers make the perfect, on-theme favors for party guests."
For The Mama With a Winter Due Date: A Cozy Hygge Shower
If the mama-to-be is due in winter, pull out all the cozy vibes, luxe materials and neutral colors for a Hygge-inspired shower. To get the look, Frischkorn recommends lots of pillar candles, chunky throw blankets to soften the space and warm beverages like toddies, hot spiked or spiced cider and hot chocolate bars (think Mexican hot chocolate!). Plus, LED copper lights to set the scene. "Use white, cream, greige or other light-colored felted ornaments—either in the form of garlands to line bars or run down tables or solo grouped together in shallow dishes to provide some texture. Another activity, time of year dependent, would be to curate a series of ornaments that could be hung on the Christmas tree and that the attendees would craft for the baby." A small sachet full of a spice pot mix makes the perf cozy favor.
For The Crunchy Mom: Farm-To-Table Fresh
If she frequents the Farmer's Market every weekend and can't live without her daily green juice, an organic, farm-to-table shower is only natural. Ideal for a morning or afternoon celebration, freshly-picked Farmer's Market flowers are a must, according to Frischkorn. "Place in wide-mouth or bud vases or put out potted herbs to enhance your space. Berry baskets full of fruit are always encouraged, as are wooden cutting boards to serve fresh vegetables, fruit and heartier sandwiches and pastries." Eucalyptus runners look great on the table too. And, of course, you can't forget the juice bar, featuring fresh green juice, lemonades and sparkling waters, she says.
For The Casual Couple: A Modern Baby-Q
One of our fave co-ed baby boy shower themes for the couple who likes to keep it luxe but low-key. For this type of party, ditch the diaper decorating games and focus on the food: think fresh-off-the-grill sliders, mini pies and a juicy watermelon and feta salad. Don't forget the beverage tub full of craft beers and pretty mason jar mocktails (with a pop of color!) either. For favors, send friends and fam home with tiny bottles of the couple's fave, locally-made BBQ sauce. A late afternoon start time gives you the option to keep the party popping well into the evening, if you'd like.
The Anti-Baby Shower: A Formal Cocktail Party
No theme? No problem. Invite guests to throw on their best festive cocktail dresses, pop the bubbly and enjoy a non-traditional baby shower, suggests Frischkorn."This cocktail party is almost the anti-baby shower idea. For food, think small bites like spring rolls, sliced figs with cheese and walnuts, bacon wrapped dates and bruschetta," she says. Champagne and a signature cocktail or mocktail based on the mom-to-be's drink of choice is a must. Skip the photo booth and create a video confessional area for your guests. "Friends and family can leave a sweet message for the little one. Select and share the age for the child to be when they get this video so that messages are tailored appropriately—it could be advice or a favorite memory about their mother." Last but not least, custom hemstitch cocktail napkins for guests to take home make for a chic favor, notes Frischkorn.
For a Family Keeing It Gender-Neutral: An All-White Affair
Don't know the sex or keeping it a surprise? Host an elegant, all-white baby shower with hints of florals—like white rose arrangements—and plush, modern baby toys, such as small blocks spray painted white, advises Event Planner Brittney Mendoza. "The color white in itself is elevated and always looks so sleek without doing too much!" A white balloon arch is a beautiful touch, and you can always add some color with fresh greenery on the tables. Serve white wine and bottles of sparkling water to complete the look.
For The Traditional Mom: Shades of Pink or Blue
Remember Kylie Jenner's super chic, pink-themed baby shower for Stormi? If the mama-to-be is expecting something a bit more traditional color-wise, something as simple as layering shades of blue or pink (especially when it comes to the flowers!) has a big impact and always looks classy, points out luxury Event Planner Bruce Russell.